Protect Your Home with Huntsville's Best Pest Control Services
Get Rid of Bugs in Huntsville
Whether you're a first-time homeowner or have been living in your house for years, a pest infestation is enough to make your space feel like less of a home. When you need to take back your home from unwanted bugs, doing it on your own is a challenge that you don't need to take on. At least, not when you have Crown Service on your side! Our pest control services in Huntsville provide you with:
A complete home inspection from one of our qualified local exterminators.

Flexible and responsive treatment plans that adapt to your needs. 

Reduced-risk products that keep your loved ones safe.

Free retreatments if pests come back.

And more!
Feel Secure with our Guaranteed Results
When it comes to pest control in Huntsville, you need a team that you can count on. We aim to earn your trust and confidence every time we come to your front door. To help us do that, we back up every service we offer with a 100% satisfaction guarantee and free retreatments if you're unhappy with our work. We're here to restore your peace of mind and help you when you need to get rid of bugs for good!
Image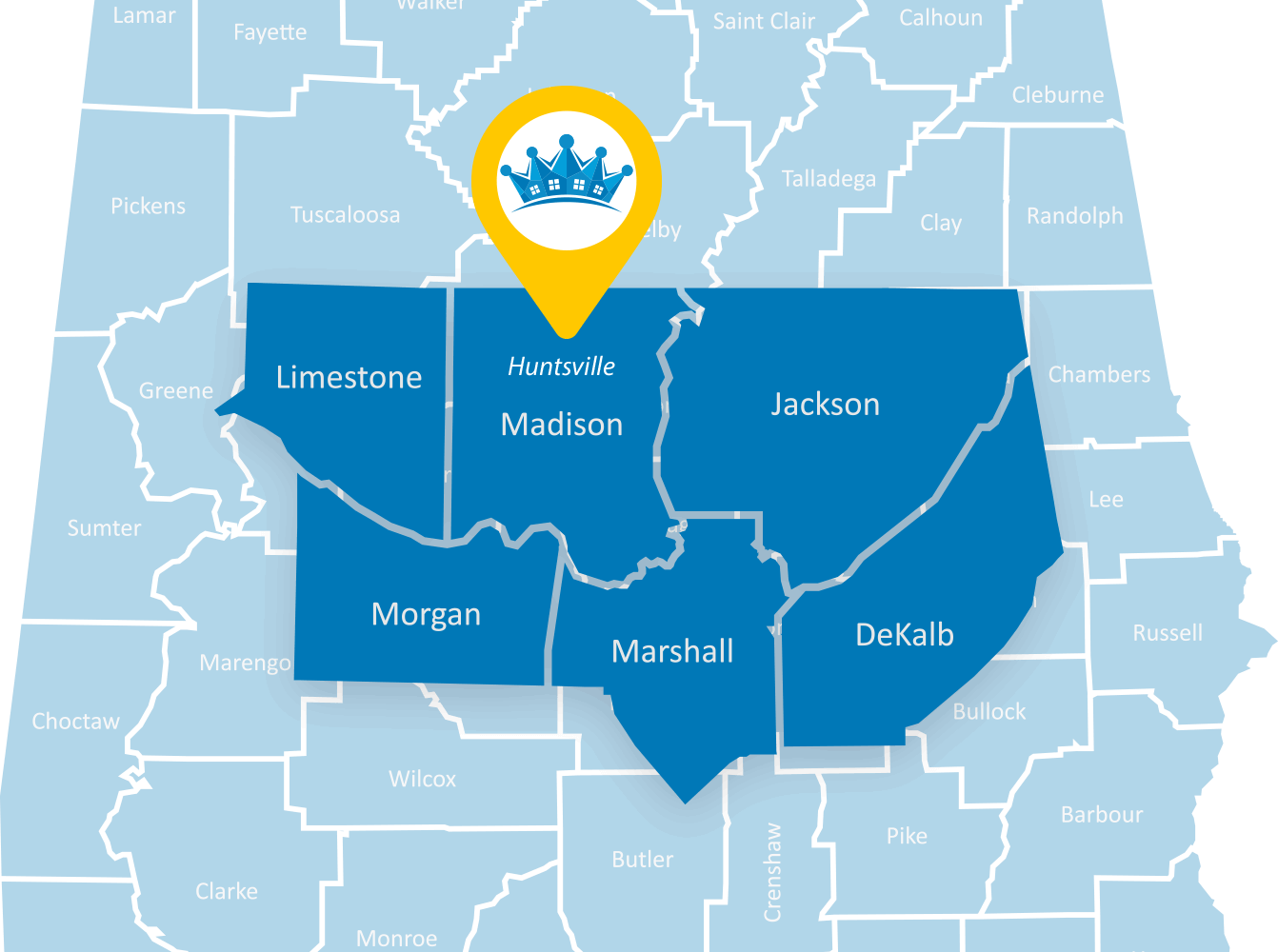 Protection from a Wide Variety of Pests
Huntsville is no stranger to its share of household pests, so why would you choose a company that can't deal with them all? Here at Crown Service, our exterminators receive the highest level of training and bring years of hands-on experience to every job. Don't choose a pest control company that leaves you on your own and instead, choose long-lasting protection from:
Ants
Beetles
Crickets
Earwigs
Flies
Mice and Rats
Silverfish
Stinging Insects
Spiders
And many more!
Termite Control in Huntsville
Of all the horrible household pests out there, termites are probably the least popular. And given the amount of damage they can cause to the structure of your house, it's no wonder why. Nationwide, termites are responsible for over $5 billion in damage every year. Your home is more vulnerable to contributing to this alarming statistic than even you might realize. But when your home is guarded by our termite control in Huntsville, you won't have to worry about your house succumbing to termites. You can rely on us to keep your home safe with our expert termite treatments in Huntsville. When you sign up for any of our plans, you can expect:
A free termite inspection to assess the extent of your home's infestation and damage. 

Protection from all common local termite varieties.

Free retreatments if termites return within 30 days.

And more!
Bed Bug Treatment in Huntsville
You should be able to expect a good night's sleep in your own home. When you're dealing with bed bugs though, that's nearly impossible. When these determined little hitchhikers get into your home, they spread quickly and can be extremely difficult to remove. Our bed bug control in Huntsville aims to provide long-term relief with combined liquid, dusting, and aerosol treatments for maximum effectiveness. Stay one step ahead of these pests and contact us to get rid of bed bugs today!
Signs of bed bug activity include:
Small rust-colored stains on furniture or bedding in an affected room.

Itchy red bites where skin comes into contact with infested bedding or upholstery.

An unpleasant, wet towel-like smell in your home.

Shed skins and hatched eggs, particularly in drawers.

Live adult bed bugs.
If you're experiencing any of these signs, give our bed bug exterminators a call!
Rodent Control in Huntsville
Rodents are one of the most dangerous household pests that you're likely to ever encounter. From their ability to spread dangerous diseases to your loved ones to causing serious damage to your home, mice and rats are bad news. Consequently, you need an expert when it comes to your rodent control in Huntsville. At Crown Service, we take a proactive approach to protecting your home and getting rid of rats and mice, which includes:
A top-to-bottom home inspection from a local rodent exterminator.

Trapping and baiting services for long-lasting relief.

Reliable mouse and rat exclusion to prevent future infestations from occurring. 

Available rodenticide applications as needed.

And much more!
Trust our Local Experience
North Alabama experiences its unique pest-related challenges so when trying to meet them, it makes sense to choose a local company. At Crown Services, we're proud to call the Huntsville area home and are looking forward to putting our years of local experience to work for you. Your home and family deserve a safe, comfortable, pest-free home and when you choose to work with us, we'll give you exactly that! Check out our highly rated pest control services in Hunstville to see for yourself.